Captivating Creations to Ignite Your Imagination – Hand Crafted by Randam Art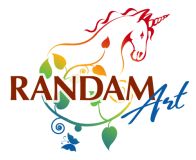 Randam Art produces original and interesting, decoratively painted Art on Glass, specialty jewelry, and other flights of fancy.  Fun and functional hand painted glassware and one-of-a-kind personal wearable art jewelry. Created with vibrant, lively colors and a dash of whimsy.
Randam Art creates fun, colorful, and interesting hand made arts and crafts.  Look around and you will find unique handmade artisan gifts, jewelry, home decor and object art – and of course new and different things are often added. We periodically announce new items so be sure to sign up to receive our newsletter, and connect to us on Facebook to stay in touch.
Wander through the site to discover more about Randam Art.  And of course, if you would like to peruse the products that we sell, you can find information about the ways you can shop with Randam Art.  Please look around and enjoy your stay.  If you have questions we hope you will contact us.  We'd be happy to hear from you!
Some of the items Randam Art creates include:
Glassware:  One of a Kind Art on Glass – Painted Glassware (Oil Candles,  Reed Diffusers, Glass Art) | Bottle Notes |Candle Holders  | Favor Jars  | Glass Globe Painted Ornaments | Hummingbird Feeders | Incense Burning Up-cycled Bottles | Lighted Glass Bottles |  | Pour Bottles | Ring Keepers | Soap or Lotion Dispenser | Stemware |Utility Jars.
Wearable Art:  Assemblage Resin Jewelry (Reliquary Pendants)   Other: Memory Beads Recycled: B-Sides Recycled Records